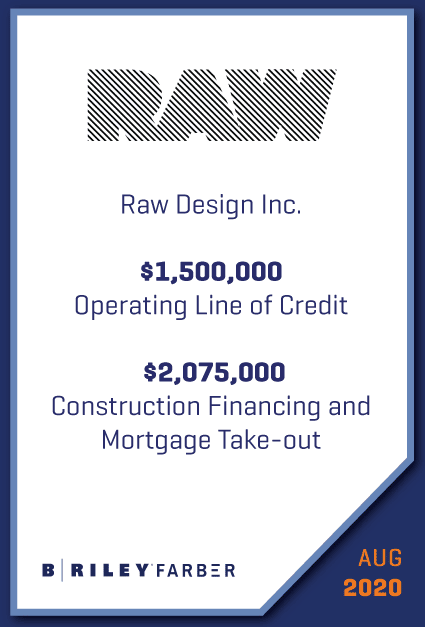 B. Riley Farber is pleased to have acted as the exclusive financial advisor to obtain an Operating Line of Credit for $1,500,000 for Raw Design Inc. and $2,075,000 construction financing and mortgage take-out for a related sister company, Raw Factory Inc. The transaction closed and was announced on July 20, 2020.
The Operating Line of Credit provides for daily cash requirements pending collection of accounts receivable. The construction financing and mortgage take-out are to assist in the commercial redevelopment and repurpose of a heritage building with environmental contamination. The company required a lender who would work with them through the environmental clean up and completion of the redevelopment of the building.
Raw Design Inc. was founded in 2007 and is an award-winning mid-sized architectural firm located in downtown Toronto.  The principal is recognized for his design excellence. Company portfolio includes community green houses, master plans and single-family houses through to large multi-unit residential complexes, mixed use projects and specialized office environments. A variety of scales and building types have been designed from 3,000 sq. ft. to 1,000,000 sq.ft.
Deal Team: